Publications & Scholarly Works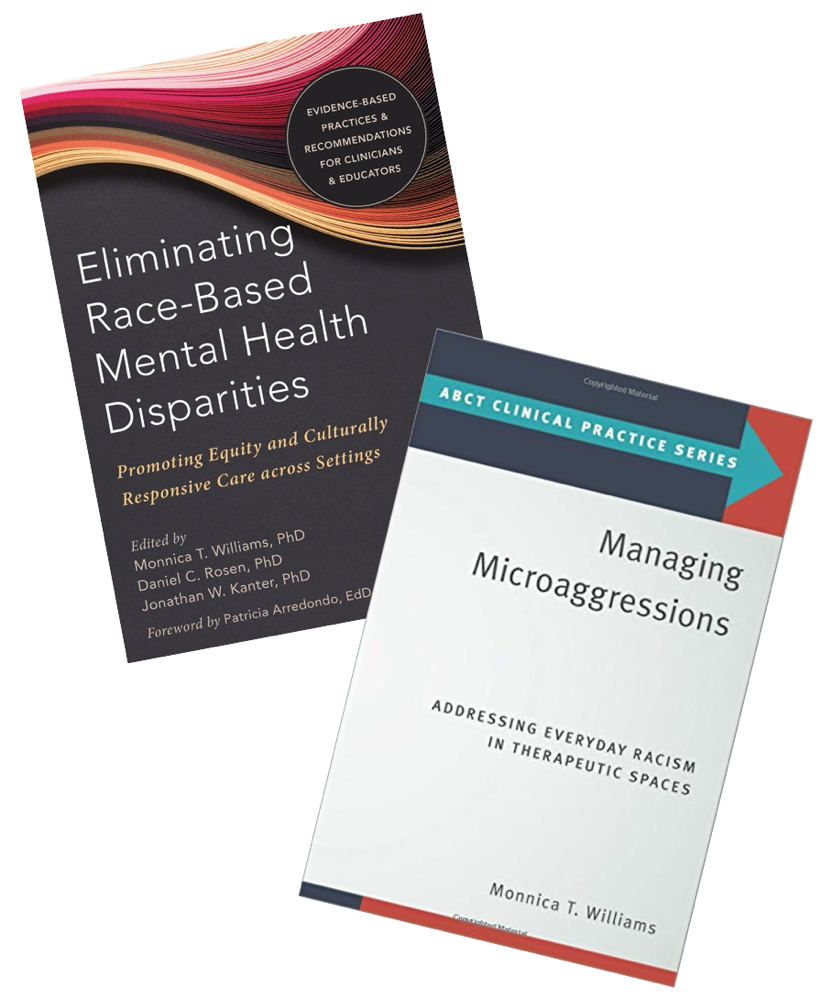 Publication Overview
Dr. Williams has published over 150 peer-reviewed journal articles and over 40 book chapters, as well as numerous editorials, commentaries, and scientific reports. This page contains most of Dr. Williams' publications which have appeared in peer-reviewed scientific journals and edited volumes. It also includes some recent technical reports and commentaries. Where available, these can be downloaded as PDFs.
These works have an emphasis on psychopathology and cultural experiences. Among these are papers focused on multiple ethnic groups (69), Black people (45), primarily White samples (26), Black/White differences (17), Hispanic Americans (5), and Asian groups (5), and Indigenous people (1). Over one-hundred (102) are empirical, with over three-quarters (78%) of these using data collected by Dr. Williams and her lab. Primary topics include OCD and related disorders (68), trauma (39), anxiety (21), depression (10), and substance use disorders (10). Twenty-two (22) are focused on biomedical treatment approaches, and 24 are psychometric studies. She also has written four books, the most recent of which is focused on microaggressions in clinical care. She has two additional books under contract, including one with APA.
To download the most popular measures, including the Trauma Symptoms of Discrimination (TSDS), the Racial Trauma Scale (RTS), and the UConn Racial/Ethnic Stress & Trauma Survey (UnRESTS), visit our Racial Trauma Research page at the laboratory for Culture and Mental Health Disparities.
Journal Articles
Accepted Forthcoming

Misra, A., Bryan, A., Faber, N. S., Pereira, D. P., Faber, S., Williams, M. T., & Skinta, M. D. (under review). A Systematic Review of Inclusion of Minoritized Populations in Randomized Controlled Trials of Acceptance and Commitment Therapy. Journal of Contextual Behavioral Science.


Faber, N. & Williams, M. (in press). The Intersection of race and femininity in the classroom. Frontiers in Psychology.


Faber, S. C., Osman, M., & Williams, M. T. (in press). Access to mental health care in Canada. International Journal of Mental Health. https://doi.org/10.1080/00207411.2023.2218586



Advance Online

Bartlett, A., Vallely, A., Williams, M. T., Nepton, A., & Feng, R. (in press). Building psychedelic studies as an interdisciplinary academic field: Its urgency and its challenges. International Journal for the Psychology of Religion (IJPR). https://doi.org/10.1080/10508619.2023.2216628


Faber, S., Williams, M. T., Metzger, I. W., MacIntyre, M. M., Strauss, D., Duniya, C. G., Sawyer, K., Cénat, J. M., & Goghari, V. (in press). Lions at the gate: How weaponization of policy prevents people of colour from becoming professional psychologists in Canada. Canadian Psychology. https://doi.org/10.1037/cap0000352


Williams, M., Bartlett, A., Zare, M., Custer, N. & Osman, M. (in press). Sexual harassment and abuse in law enforcement: Best practices for creating safety for female officers. The Police Journal: Theory, Practice and Principles. https://doi.org/10.1177/0032258X231156714


Williams, M. T., Holmes, S., Zare, M. Haeny, A. H., & Faber, S. C. (in press). An evidence-based approach for treating stress and trauma due to racism. Cognitive and Behavioral Practice. https://doi.org/10.1016/j.cbpra.2022.07.001


Ching, T., Williams, M., Reed, S., Kisicki, M., Wang, J., Yazar-Klosinski, B., Emerson, A., & Doblin, R. (in press). MDMA-assisted therapy for posttraumatic stress disorder: A mixed-methods case study of a participant of color from an open-label trial. Journal of Humanistic Psychology. https://doi.org/10.1177/00221678221076993



Published

Strauss, D., Gran-Ruaz, S., Osman, M., Williams, M., & Faber, S. (2023). Racism and censorship in the editorial and peer review process. Frontiers, 14, 1-16.. https://doi.org/10.3389/fpsyg.2023.1120938


Haeny, A. H., Lopez, J., Grigas, P. C., Crouch, M., Davis, A. K., & Williams, M. (2023). Investigating the associations of acute psychedelic experiences and changes in racial trauma symptoms, psychological flexibility, and substance use among People with Racial and Ethnic Minoritized Identities in the United States and Canada. Journal of Substance Use and Addiction Treatment, 149, 209035. https://doi.org/10.1016/j.josat.2023.209035


Williams, M., Osman, M., Gran-Ruaz, S., Strauss, D., & Zare, M. (2023). Performative shooting exercises do not predict real-world racial bias in police officers. Canadian Journal of Behavioural Science, 55(2), 142–152. https://doi.org/10.1037/cbs0000332 [invited]


Williams, M. T. & Gran-Ruaz, S. (2023). Can anti-racism training improve outgroup liking and allyship behaviors? Whiteness and Education, 8(1), 20-38. https://doi.org/10.1080/23793406.2021.1988687 [download IRAS]


Jacob, G., Faber, S. C., Faber, N., Bartlett, A., Ouimet, A., & Williams, M. T. (2023). A systematic review of Black People coping with racism: Approaches, analysis, and empowerment. Perspectives on Psychological Science, 18(2) 392-415. https://doi.org/10.1177/17456916221100509


MacIntyre, M. M., Zare, M., & Williams, M. T. (2023). Anxiety-related disorders in the context of racism. Current Psychiatry Reports, 25(2), 31–43. https://doi.org/10.1007/s11920-022-01408-2


Ching, T., Davis, A. K., Xin, Y., & Williams, M. T. (2023). Effects of psychedelic use on racial trauma symptoms and ethnic identity among Asians in North America. Journal of Psychoactive Drugs, 55(1), 19-29. https://doi.org/10.1080/02791072.2022.2025960


Faber, S., Khanna Roy, A., Michaels, T. I., & Williams, M. T. (2023). The weaponization of medicine: Early psychosis in the Black community and the need for racially informed mental health care. Frontiers in Psychiatry, 14, 1-16. https://doi.org/10.3389/fpsyt.2023.1098292


Williams, M. T., Faber, S. C., Nepton, A., & Ching, T. (2023). Racial justice allyship requires civil courage: Behavioral prescription for moral growth and change. American Psychologist, 78(1), 1–19. https://doi.org/10.1037/amp0000940


Williams, M. T., Osman, M., & Hyon, C. (2023). Understanding the psychological impact of oppression using the Trauma Symptoms of Discrimination Scale (TSDS). Chronic Stress, 7, 1-12. https://doi.org/10.1177/24705470221149511


Williams, M. T. & Zare, M. (2022). A psychometric investigation of racial trauma symptoms using a semi-structured clinical interview with a trauma checklist (UnRESTS). Chronic Stress, 6, 1-10. https://doi.org/10.1177/24705470221145126


Bartlett, A., Faber, S., Williams, M., & Saxberg, K. (2022). Getting to the root of the problem: Supporting clients with lived-experiences of systemic discrimination. Chronic Stress, 6, 1-10. https://doi.org/10.1177/24705470221139205


Sarr, F., Knight, S., Strauss, D., Ouimet, A. J., Cénat, J. M., Williams, M. T., & Shaughnessy, K. (2022). Increasing the representation of Black, Indigenous, and People of Colour as students in psychology doctoral programs. Canadian Psychology, 63(4), 479–499. https://doi.org/10.1037/cap0000339


De la Salle, S., Davis, D. D., Gran-Ruaz, S., Davis, A. K., & Williams, M. T. (2022). Acute and enduring effects of psychedelic use among Indigenous peoples in Canada and the United States. Canadian Psychology, 63(4), 589–607. https://doi.org/10.1037/cap0000338


Gran-Ruaz, S., Feliciano, J., Bartlett, A., & Williams, M. T. (2022). Implicit racial bias across ethnoracial groups in Canada and the United States and Black mental health. Canadian Psychology, 63(4), 608–622. https://doi.org/10.1037/cap0000323 Winner of the 2022 CPA Best Article Award in Canadian Psychology.


Strauss, D., de la Salle, S., Sloshower, J., & Williams, M. T. (2022). Research abuses against people of colour and other vulnerable groups in early psychedelic research. Journal of Medical Ethics, 48(10), 728-737. http://dx.doi.org/10.1136/medethics-2021-107262


Williams, M. T., Osman, M., Gallo, J., Printz, D., Gran-Ruaz, S., Strauss, D., Lester, L., George, J., Edelman, J., & Litman, L. (2022). A clinical scale for the assessment of racial trauma. Practice Innovations, 7(3), 223–240. https://doi.org/10.1037/pri0000178 APA Award for top-downloaded journal article published in 2022.


Ching, T., Williams, M., Wang, J., Jerome, L., Yazar-Klosinski, B., Emerson, A., & Doblin, R. (2022). MDMA-assisted therapy for posttraumatic stress disorder: A pooled analysis of ethnoracial differences in efficacy and safety from a phase 2 open-label lead-in trial and phase 3 randomized, blinded placebo-controlled trial. Journal of Psychopharmacology, 36(8), 974-986. https://doi.org/10.1177/02698811221104052


Faber, S. C., Strauss, D., Gran-Ruaz, S., La Torre, J., Bartlett, A., Faber, I., Levinson, A., & Williams, M. T. (2022). A call to use psychology for anti-racist jury selection. Practice Innovations, 7(3), 203–222. https://doi.org/10.1037/pri0000172


Rochester, J., Vallely, A., Grof, P., Williams, M., Chang, H., & Caldwell, K. (2022). Entheogens and psychedelics in Canada: Proposal for a new paradigm. Canadian Psychology, 63(3), 413–430. https://doi.org/10.1037/cap0000285


Michaels, T. I., Lester, L., de la Salle, S., & Williams, M. T. (2022). Ethnoracial inclusion in randomized, double-blind, placebo-controlled clinical trials of ketamine in the treatment of mood disorders. Journal of Studies on Alcohol and Drugs, 83(4), 596–607. https://doi.org/10.15288/jsad.2022.83.596.


Levinson, A., Williams, M. T., Faber, S. C., Strauss, D., Gran-Ruaz, S, La Torre, J., & Bartlett, A. (2022). Challenging jurors' racism. Gonzaga Law Review, 57(3), 365-424.


Rosa, W. E., Sager, Z., Miller, M., Bernstein, I., Rinaldi, A. D., Addicott, K., Ljuslin, M., Adrian, C., Back, A. L., Beachy, J., Bossis, A. P., Breitbart, W. S., Cosimano, M. P., Fischer, S. M., Guss, J., Knighton, E., Phelps, J., Richards, B. D., Richards, W. A., Tulsky, J. A., Williams, M. T., & Beaussant, Y. (2022). Top ten tips palliative care clinicians should know about psychedelic-assisted therapy in the context of serious illness. Journal of Palliative Medicine, 25(8), 1273-1281. https://www.liebertpub.com/doi/10.1089/jpm.2022.0036


Gran-Ruaz, S., Taylor, R. J., Jacob, G., & Williams, M. T. (2022). Lifetime trauma exposure and posttraumatic stress disorder among African Americans and Black Caribbeans by sex and ethnicity. Frontiers in Psychiatry, 13(889060), 1-15. https://doi.org/10.3389/fpsyt.2022.889060


Williams, M. T., Khanna Roy, A., MacIntyre, M., & Faber, S. (2022). The traumatizing impact of racism in Canadians of colour. Current Trauma Reports, 8, 17–34. https://doi.org/10.1007/s40719-022-00225-5 [invited]


Williams, M., Faber, S. C., & Duniya, C. (2022). Being an anti-racist clinician. The Cognitive Behaviour Therapist, 15(e19), 1-22. https://doi.org/10.1017/S1754470X22000162 [invited] Top-ten downloaded article for the Cognitive Behaviour Therapist journal.


Bosson, R. S., Williams, M. T., Powers, V. A., Carrico, R. M., Frazier, V., Ramirez, J. A., Schneider, W. S. & Hooper, L. M. (2022). Mental and physical health profile of Syrian resettled refugees. Primary Health Care Research & Development, 23(e21), 1–6. https://doi.org/10.1017/S146342362200007X.


Davis, A. K., Arterberry, B. J., Xina, Y., Agin-Liebese, G., Schwarting, C., & Williams, M. T. (2022). Race, ethnic, and sex differences in prevalence of and trends in hallucinogen consumption among lifetime users in the United States between 2015-2019. Frontiers in Epidemiology, 2, 876706. https://doi.org/10.3389/fepid.2022.876706


Williams, M., Whittal, M., & La Torre, J. (2022). Best practices for CBT treatment of taboo and unacceptable thoughts in OCD. The Cognitive Behaviour Therapist, 15 (e15), 1-25. https://10.1017/S1754470X22000113


Pinciotti, C. M., Smith, Z., Singh, S., Wetterneck, C. T., & Williams, M. T. (2022). Call to action: Recommendations for justice-based treatment of obsessive-compulsive disorder with sexual orientation and gender themes. Behavior Therapy, 53(2), 153-169. https://doi.org/10.1016/j.beth.2021.11.001


Grau, P., Kusch, M. M., Williams, M. T., Loyo, K. M., Zhang, X., Warner, R. C., & Wetterneck, C. (2022). A review of the inclusion of ethnoracial groups in empirically-supported posttraumatic stress disorder treatment research. Psychological Trauma: Theory, Research, Practice, and Policy, 14(1), 55–65. https://doi.org/10.1037/tra0001108


Davis, A. K., Xin, Y., Sepeda, N. D., Garcia-Romeu, A., & Williams, M. T. (2021). Increases in psychological flexibility mediate the relationship between acute psychedelic effects and decreases in racial trauma symptoms among people of color. Chronic Stress, 5, 1-10. https://doi.org/10.1177/24705470211035607


Williams, M. T., Osman, M., Gran-Ruaz, S., & Lopez, J. (2021). Intersection of racism and PTSD: Assessment and treatment of racism-related stress and trauma. Current Treatment Options in Psychiatry, 8, 167–185. https://doi.org/10.1007/s40501-021-00250-2


Beaussant, Y., Tulsky, J., Guérin, B., Schwarz-Plaschg, C., Sanders, J., & the Radcliffe Institute for Advanced Studies Working Group on Psychedelic Research in Serious Illness. (2021). Mapping an agenda for psychedelic-assisted therapy research in patients with serious illness. Journal of Palliative Medicine, 24(11), 1657-1666. https://doi.org/10.1089/jpm.2020.0764


Wetterneck, C. T., Rouleau, T. M., Williams, M. T., Vallely, A., La Torre, J. T., & Bjorgvinsson, T. (2021). A new scrupulosity scale for the Dimensional Obsessive-Compulsive Scale (DOCS): Validation with clinical and non-clinical samples. Behavior Therapy, 52(6), 1449-1463. https://doi.org/10.1016/j.beth.2021.04.001


Fogg, C., Michaels, T. I., de la Salle, S., Jahn, Z. W., & Williams, M. T. (2021). Ethnoracial health disparities and the ethnopsychopharmacology of psychedelic medicine. Experimental and Clinical Psychopharmacology, 29(5), 539–554. https://doi.org/10.1037/pha0000490


Jahn, Z. W., Lopez, J., de la Salle, S., Faber, S., & Williams, M. T. (2021). Racial/Ethnic differences in prevalence for hallucinogen use by age cohort: Findings from the 2018 National Survey on Drug Use and Health. Journal of Psychedelic Studies, 5(2), 69-82. https://doi.org/10.1556/2054.2021.00166


Holmes, S., Callinan, L., Facemire, V. C., Williams, M. T., Ciarleglio, M. M., & Smith, M. V. (2021). Material hardship is associated with posttraumatic stress disorder symptoms among low-income Black women. Journal of Traumatic Stress, 34(5), 905-916. https://doi.org/10.1002/jts.22741


Williams, M. T., Sharif, N., Strauss, D., Gran-Ruaz, S., Bartlett, A., & Skinta, M. D. (2021). Unicorns, leprechauns, and White allies: Exploring the space between intent and action. The Behavior Therapist, 44(6), 272-281.


Williams, M. T., Skinta, M. D., & Martin-Willett, R. (2021). After Pierce and Sue: Evidence for a revised racial microaggressions taxonomy. Perspectives on Psychological Science, 16(5), 991-1007. https://doi.org/10.1177/1745691621994247


Haeny, A., Holmes, S., & Williams, M. T. (2021). The need for shared nomenclature on racism and related terminology. Perspectives on Psychological Science, 16(5), 886-892. https://doi.org/10.1177/17456916211000760


Steketee, A., Williams, M., Valencia, B., Printz, D., & Hooper, L. M. (2021). Racial and language microaggressions in the school ecology. Perspectives on Psychological Science, 16(5), 1075-1098. https://doi.org/10.1177/1745691621995740


Williams, M. T., Ching, T., & Gallo, J. (2021). Understanding microaggressions and aggression by and against People of Color. Cognitive Behaviour Therapist, 14(e25), 1-19. https://doi.org/10.1017/S1754470X21000234 [download CCAS]


Ching, T. H. W., Rouleau, T., Turner, E., & Williams, M. T. (2021). Disgust sensitivity mediates the link between homophobia and sexual orientation obsessive-compulsive symptoms. Cognitive Behaviour Therapy, 50(6), 452-465. https://doi.org/10.1080/16506073.2020.1861083


Sookman, D., Phillips, K. A., Anholt, G. E., Bhar, S., Bream, V., Challacombe, F. I., Coughtrey, F. L., Craske, M. G., Foa, E., Gagné, J. P., Huppert, J. D., Jacobi, D., Lovell, K., McLean, C. P., Neziroglu, F., Pedley, R., Perrin, S., Pinto, A., Pollard, C. A., Radomsky, A., Riemann, B., Shafran, R., Simos, G., Söchting, I., Summerfeldt, L. J., Szymanski, J., Treanor, M., Van Noppen, B., van Oppen, P., Whittal, M., Williams, M. T., Williams, T., Yadin, E., & Veale, D. (2021). Knowledge and competency standards for specialized cognitive behavior therapy for adult obsessive-compulsive disorder. Psychiatry Research, 303 (113752), 1-54. https://doi.org/10.1016/j.psychres.2021.113752


Luxon, A. M., Chasson, G. S., Williams, M. T., Skinta, M., & Galupo, M. P. (2021). Brooding over the closet: Differentiating sexual orientation rumination and sexual orientation obsessions. Journal of Cognitive Psychotherapy, 35(3), 167-182.


Williams, M. T. & Sharif, N. (2021). Racial allyship: Novel measurement and new insights. New Ideas in Psychology, 62(100865), 1-10. https://doi.org/10.1016/j.newideapsych.2021.100865 [download IRAS]


DeLapp, R. C. T. & Williams, M. T. (2021). Preparing for racial microaggressions: The role of cognition and emotion in the proactive coping process of African American college students. New Ideas in Psychology, 63(100897), 1-13. https://doi.org/10.1016/j.newideapsych.2021.100897


Halstead, M., Reed, S., Krause, R., & Williams, M. T. (2021). Ketamine-assisted psychotherapy for PTSD related to experiences of racial discrimination. Clinical Case Studies, 20(4), 310-330. https://doi.org/10.1177/1534650121990894


Williams, M. T. (2021). Microaggressions are a form of aggression. Behavior Therapy, 52(3), 709-719. https://doi.org/10.1016/j.beth.2020.09.001 [download CCAS]


Williams, M., Davis, A., Xin, Y., Sepeda, N., Colon-Grigas, P., Sinnott, S., & Haeny, A. (2021). People of color in North America report improvements in racial trauma and mental health symptoms following psychedelic experiences. Drugs: Education, Prevention & Policy, 28(3), 215-226. https://doi.org/10.1080/09687637.2020.1854688


Williams, M. T., Taylor, R. J., George, J. R., Schlaudt, V., Chatters, L. C., & Ifatunji, M. A. (2021). Correlates of obsessive-compulsive symptoms among Black Caribbean Americans. International Journal of Mental Health, 50(1), 53-77. https://doi.org/10.1080/00207411.2020.1826261


Williams, M. T., Haeny, A. & Holmes, S. (2021). Posttraumatic stress disorder and racial trauma. PTSD Research Quarterly, 32(1), 1-9.


Ching, T. H. W., Wetterneck, C. T., Chase, T., & Williams, M. T. (2020). Sexual trauma, cognitive appraisals, and sexual intrusive thoughts and their subtypes: A moderated mediation analysis. Archives of Sexual Behavior, 49, 2907–2917. https://doi.org/10.1007/s10508-020-01809-5


Williams, M. T., Reed, S., & George, J. (2020). Culture and psychedelic psychotherapy: Ethnic and racial themes from three Black women therapists. Journal of Psychedelic Studies, 4(3), 125-138. https://doi.org/10.1556/2054.2020.00137


Williams, M. T., Skinta, M. D., Kanter, J. K., Martin-Willett, R., Mier-Chairez, J., Debreaux, M., & Rosen, D. C. (2020). A qualitative study of microaggressions against African Americans on predominantly White campuses. BMC Psychology, 8(111), 1-13. https://doi.org/10.1186/s40359-020-00472-8


Williams, M. T., Rouleau, T., La Torre, J., & Sharif, N. (2020). Cultural competency in the treatment of obsessive-compulsive disorder: Practitioner Guidelines. Cognitive Behaviour Therapist, 13, e48. https://doi.org/10.1017/S1754470X20000501


Kanter, J. W., Williams, M. T., Kuczynski, A. M., Corey, M. D., Parigoris, R. M., Carey, C. M., Manbeck, K. E., Wallace, E. C., & Rosen, D. C. (2020). The measurement and structure of microaggressive communications by White people. Race and Social Problems, 12, 323–343. https://doi.org/10.1007/s12552-020-09298-w [download CCAS]


Muvuka, B., Combs, R., Ali, N., Scott, H., & Williams, M. (2020). Depression is Real: Developing a health communication campaign in an urban African American community. Progress in Community Health Partnerships: Research, Education, and Action, 14(2), 161-172. https://doi.org/10.1353/cpr.2020.0029


Williams, M. T., Kanter, J. W., Peña, A., Ching, T. W. C., & Oshin, L. (2020). Reducing microaggressions and promoting interracial connection: The Racial Harmony Workshop. Journal of Contextual and Behavioral Science, 16, 153-161. https://doi.org/10.1016/j.jcbs.2020.04.008


Kanter, J. W., Rosen, D. C., Manbeck, K. E., Branstetter, H., Kuczynski, A., Corey, M. D., Maitland, D., & Williams, M. T. (2020). Addressing microaggressions in racially charged patient-provider interactions: A pilot randomized trial. BMC Medical Education, 20(88), 1-14. https://doi.org/10.1186/s12909-020-02004-9.


Schlaudt, V. A., Bosson, R., Williams, M. T., German, B., Hooper, L., Frazier, V., Carrico, R., & Ramirez, J. (2020). Traumatic experiences and mental health risk for refugees. International Journal of Environmental Research and Public Health, 17, 1943. https://doi.org/10.3390/ijerph17061943.


Saleem, F. T., Anderson, R. E., & Williams, M. T. (2020). Addressing the "myth" of racial trauma: Developmental and ecological considerations for youth of color. Clinical Child and Family Psychology Review, 23(1), 1–14. https://doi.org/10.1007/s10567-019-00304-1


Williams, M. T., Reed, S., & Aggarwal, R. (2020). Culturally-informed research design issues in a study for MDMA-assisted psychotherapy for posttraumatic stress disorder. Journal of Psychedelic Studies, 4(1), 40–50. https://doi.org/10.1556/2054.2019.016


George, J. R., Michaels, T. I., Sevelius, J., & Williams, M. T. (2020). The psychedelic renaissance and the limitations of a White-dominant medical framework: A call for indigenous and ethnic minority inclusion. Journal of Psychedelic Studies, 4(1), 4-15. https://doi.org/10.1556/2054.2019.015


Williams, M. T. (2020). Psychology cannot afford to ignore the many harms caused by microaggressions. Perspectives on Psychological Science, 15(1), 38-43. https://doi.org/10.1177/1745691619893362


Williams, M. T. (2020). Microaggressions: Clarification, evidence, and impact. Perspectives on Psychological Science, 15(1), 3-26. https://doi.org/10.1177/1745691619827499


Sloshower, J., Guss, J., Krause, R., Wallace, R., Williams, M., Reed, S., & Skinta, M. (2020). Psilocybin-assisted therapy of major depressive disorder using Acceptance and Commitment Therapy as a therapeutic frame. Journal of Contextual Behavioral Science, 15, 12-19.


Ching, T., Jelinek, L., Hauschildt, M., & Williams, M. (2019). Association splitting for obsessive-compulsive disorder: A systematic review. Current Psychiatry Research and Reviews, 15(4), 248-260. https://doi.org/10.2174/2352096512666190912143311


Williams, M. & Halstead, M. (2019). Racial microaggressions as barriers to treatment in clinical care. Directions in Psychiatry, 39(4), 265-280.


Ching, T. H. W., Williams, M. T., Russell, S., & Chasson, G. S. (2019). Should OCD be recognized as a differential diagnosis for separation anxiety disorder? The Behavior Therapist, 42(7), 243-248.


Williams, M. T. (2019). Adverse racial climates in academia: Conceptualization, interventions, and call to action. New Ideas in Psychology, 55, 58-67. https://doi.org/10.1016/j.newideapsych.​2019.​05.​002


DeLapp, R. C. T. & Williams, M. T. (2019). Preparing for racial discrimination and moving beyond reactive coping: A systematic review. Current Psychiatry Research and Reviews, 15(1), 58-71. https://doi.org/10.2174/1573400515666190211114709


Ching, T. H. W. & Williams, M. T. (2019). The role of ethnic identity in OC symptom dimensions among Asian Americans. Journal of Obsessive Compulsive & Related Disorders, 21, 112–120.


Williams, M. T., Printz, D., Ching, T., & Wetterneck, C. T. (2018). Assessing PTSD in ethnic and racial minorities: Trauma and racial trauma. Directions in Psychiatry, 38(3), 179-196.


Williams, M. T., Metzger, I., Leins, C., & DeLapp, C. (2018). Assessing racial trauma within a DSM-5 framework: The UConn Racial/Ethnic Stress & Trauma Survey. Practice Innovations, 3(4), 242-260. https://doi.org/10.1037/pri0000076


Litman, L., Williams, M. T., Rosen, Z., Robinson, J., Weinberger-Litman, S., Flannery, M., & Maitland, T. (2018). Racial disparities in cleanliness attitudes mediate purchasing attitudes toward cleaning products: A serial mediation model. Journal of Racial and Ethnic Health Disparities, 5(4), 838–846. https://doi.org/10.1007/s40615-017-0429-y


Williams, M. T., Ching, T. H. W., Tellawi, G., Siev, J., Dowell, J., Schlaudt, V., Slimowicz, J., & Wetterneck, C. T. (2018). Assessing sexual orientation symptoms in obsessive-compulsive disorder: Development and validation of the Sexual Orientation Obsessions and Reactions Test (SORT). Behavior Therapy, 49(5), 715-729. https://doi.org/10.1016/j.beth.2017.12.005


Carlson, M. D., Endsley, M., Motley, D., Shawahin, L. N., & Williams, M. T. (2018). Addressing the impact of racism on veterans of color: A race-based stress and trauma intervention. Psychology of Violence, 8(6), 748-762. https://doi.org/10.1037/vio0000221


Williams, M. T., Printz, D., & DeLapp, R. C. T. (2018). Assessing racial trauma in African Americans with the Trauma Symptoms of Discrimination Scale. Psychology of Violence, 8(6), 735-747. https://doi.org/10.1037/vio0000212


Ching, T. H. W., Lee, S., Chen, J., So, R., & Williams, M. T. (2018). A model of intersectional stress and trauma in Asian American sexual and gender minorities. Psychology of Violence, 8(6), 657-668. https://doi.org/10.1037/vio0000204


Michaels, T. I., Purdon, J., Collins, A. & Williams, M. T. (2018). Inclusion of people of color in psychedelic-assisted psychotherapy: A review of the literature. BMC Psychiatry, 18(245), 1-9. https://doi.org/10.1186/s12888-018-1824-6


Michaels, T. I., Gallagher, N., Crawford, M., Kanter, J. W., & Williams, M. T. (2018). Racial differences in the appraisal of microaggressions through cultural consensus modeling. The Behavior Therapist, 41(7), 314-321.


DeLapp, R. C. T., Chasson, G., Swerbilow, J., Gibby, B., Tellawi, G., & Williams, M. T. (2018). The normative nature of aggressive intrusive thinking among an underserved incarcerated population compared to a student sample. International Journal of Offender Therapy and Comparative Criminology, 62(13), 4142-4157. https://doi.org/10.1177/0306624X18758534


Williams, M. T., Kanter, J. W., & Ching, T. H. W. (2018). Anxiety, stress, and trauma symptoms in African Americans: Negative affectivity does not explain the relationship between microaggressions and psychopathology. Journal of Racial and Ethnic Health Disparities, 5(5), 919–927. https://doi.org/10.1007/s40615-017-0440-3


Katz, R. V., Katz, A. E., Warren, R. C., Williams, M. T., Aqel, H., Ilin, D., & McGowan, R. (2018). Comparative use of Tuskegee Syphilis Study film vs text triggers to teach bioethics: The SOETUF college study. Diversity & Equality in Health and Care, 15(5), 199-206.


Leins, C., & Williams, M. T. (2018). Using the Bible to facilitate treatment of religious obsessions in obsessive-compulsive disorder. Journal of Psychology and Christianity, 37(2), 112-124.


Ching, T. H. W. & Williams, M. T. (2018). Association Splitting of the Sexual Orientation-OCD-Relevant Semantic Network. Cognitive Behaviour Therapy, 47(3), 229-245. https://doi.org/10.1080/16506073.2017.1343380


Williams, M. T., Duque, G., Chapman, L. K., Wetterneck, C. T., & DeLapp, R. C. T. (2018). Ethnic identity and regional differences in mental health in a national sample of African American young adults. Journal of Racial and Ethnic Health Disparities, 5(2), 312–321. https://doi.org/10.1007/s40615-017-0372-y


Bruce, S. L., Ching, T., & Williams, M. T. (2018). Pedophilia-themed obsessive compulsive disorder: Assessment, differential diagnosis, and treatment with exposure and response prevention. Archives of Sexual Behavior, 47(2), 389-402. https://doi.org/10.1007/s10508-017-1031-4


Ching, T. H. W., Williams, M. T., Olatunji, B. O., & Siev, J. (2018). Responsibility/threat overestimation moderates the relationship between contamination-based disgust and obsessive-compulsive concerns about sexual orientation. Archives of Sexual Behavior, 47(4), 1109–1117. https://doi.org/10.1007/s10508-018-1165-z


Williams, M. T., Taylor, R. J., Mouzon, D. M., Oshin, L., Himle, J. A., & Chatters, L. M. (2017). Discrimination and symptoms of obsessive-compulsive disorder among African Americans. American Journal of Orthopsychiatry, 87(6), 636-645. https://doi.org/10.1037/ort0000285


Kanter, J. W., Williams, M. T., Kuczynski, A. M., Manbeck, K., Debreaux, M., & Rosen, D. (2017). A preliminary report on the relationship between microaggressions against Blacks and racism among White college students. Race and Social Problems, 9(4), 291–299. https://doi.org/10.1007/s12552-017-9214-0


Bosson, R., Williams, M. T., Schlaudt, V., Carrico, R., Peña, A., Ramirez, J., & Kanter, J. (2017). Evaluating mental health in Cuban refugees: The role of the Refugee Health Screener-15. Journal of Refugee & Global Health, 1(1), 15-23. https://doi.org/10.18297/rgh/vol1/iss1/4.


Chasson, G., Williams, M. T. Davis, D. M., & Combs, J. Y. (2017). Missed diagnoses in African Americans with obsessive-compulsive disorder: The Structured Clinical Interview for the DSM-IV Axis I Disorders (SCID-I). BMC Psychiatry, 17, 258. https://doi.org/10.1186/s12888-017-1422-z [pdf]


Williams, M. T., Taylor, R., Chatters, L. M., & Himle, J. (2017). Demographic and health-related correlates of obsessive-compulsive symptoms among African Americans. Journal of Obsessive Compulsive and Related Disorders, 14, 119-126. https://doi.org/10.1016/j.jocrd.2017.07.001


Bosson, R., Williams, M. T., Lippman, S., Carrico, R., Kanter, J., Peña, A., Mier-Chairez, J., & Ramirez, J. (2017). Addressing refugee mental health needs: From concept to implementation. The Behavior Therapist, 40(3), 110-112.


Williams, M. T., & Jahn, M. E. (2017). Obsessive-compulsive disorder in African American children and adolescents: Risks, resiliency, and barriers to treatment. American Journal of Orthopsychiatry, 87(3), 291-303. https://doi.org/10.1037/ort0000188


Stewart, C. E., Lee, S. Y., Hogstrom, A., & Williams, M. (2017). Diversify and conquer: A call to promote minority representation in clinical psychology. The Behavior Therapist, 40(3), 74-79.


Williams, M. T., Brown, T., & Sawyer, B. (2017). Psychiatric comorbidity and hoarding symptoms in African Americans with obsessive-compulsive disorder. Journal of Black Psychology, 43(3), 259–279. https://doi.org/10.1177/0095798416639438


Ching, T. H. W., Williams, M. T., & Siev, J. (2017). Violent obsessions are associated with suicidality in an OCD analogue sample of college students. Cognitive Behaviour Therapy, 46(2), 129-140. https://doi.org/10.1080/16506073.2016.1228084


Himle, J. A., Taylor, R. J., Nguyen, A. W., Williams, M. T., Lincoln, K. D., Taylor, H. O., & Chatters, L. M. (2017). Family and friendship networks and obsessive-compulsive disorder among African Americans and Black Caribbeans. The Behavior Therapist, 40(3), 99-105.


Williams, M. T., & Leins, C. (2016). Race-based trauma: The challenge and promise of MDMA-assisted psychotherapy. Multidisciplinary Association for Psychedelic Studies (MAPS) Bulletin, 26(1), 32-37. [pdf]


Singh, R., Wetterneck, C. T., Williams, M. T., & Knott, L. E. (2016). The role of shame and symptom severity on quality of life in obsessive-compulsive and related disorders. Journal of Obsessive Compulsive and Related Disorders, 11, 49-55.


Williams, M. T., Debreaux, M., & Jahn, M. (2016). African Americans with obsessive-compulsive disorder: An update. Current Psychiatry Reviews, 12(2), 109-114. https://doi.org/10.2174/1573400512666160602124146


DeLapp, R. C. T., Chapman, L. K., & Williams, M. T. (2016). Psychometric properties of a brief version of the Penn State Worry Questionnaire in African Americans and European Americans. Psychological Assessment, 28(5), 499-508. https://doi.org/10.1037/pas0000208


Tellawi, G., Williams, M. T., & Chasson, G. (2016). Interpersonal hostility and suspicious thinking in obsessive-compulsive disorder. Psychiatry Research, 243, 295-302. https://doi.org/10.1016/j.psychres.2016.06.038


Williams, M. T., & Viscusi, J. A. (2016). Hoarding disorder and a systematic review of treatment with cognitive behavioral therapy. Cognitive Behaviour Therapy, 45(2), 93-110. https://doi.org/10.1080/16506073.2015.1133697


Miller, A., Williams, M. T., Wetterneck, C. T., Kanter, J., & Tsai, M. (2015). Using functional analytic psychotherapy to improve awareness and connection in racially diverse client-therapist dyads. The Behavior Therapist, 38(6), 150-156.


Williams, M. T., Sawyer, B., Leonard, R. C., Ellsworth, M., Simms, J. V., & Riemann, B. C. (2015). Minority participation in a major residential and intensive outpatient program for obsessive-compulsive disorder. Journal of Obsessive-Compulsive and Related Disorders, 5, 67-75. https://doi.org/10.1016/j.jocrd.2015.02.004


Williams, M. T., Capozzoli, M., Buckner, E., & Yusko, D. (2015). Cognitive-behavioral treatment of social anxiety disorder with comorbid schizophrenia. Clinical Case Studies, 14(5), 323-341. https://doi.org/10.1177/1534650114559717


Foa, E. B., Simpson, H. B., Rosenfield, D., Liebowitz, M. R., Cahill, S. P., Huppert, J. D., Bender, J., McLean, C., Maher, M. J., Campeas, R., Hahn, C-G., Imms, P., Pinto, A., Powers, M., Rodrigues, C. I., Van Meter, P. E., Vermes, D., & Williams, M. T. (2015). Six-month outcomes from a randomized trial augmenting serotonin reuptake inhibitors with exposure and ritual prevention or risperidone in adults with obsessive-compulsive disorder. Journal of Clinical Psychiatry, 76(4), 440-446. https://doi.org/10.4088/JCP.14m09044


DeLapp, R. C. T., & Williams, M. T. (2015). Professional challenges facing African American psychologists: The presence and impact of racial microaggressions. The Behavior Therapist, 38(4), 101-105.


Williams, M. T., Wetterneck, C., Tellawi, G., & Duque, G. (2015). Domains of distress among people with sexual orientation obsessions. Archives of Sexual Behavior, 14 (3), 783-789. https://doi.org/10.1007/s10508-014-0421-0


Glazier, K., Wetterneck, C. T., Singh, S., & Williams, M. T. (2015). Stigma and shame as barriers to treatment in obsessive-compulsive and related disorders. Journal of Depression and Anxiety, 4(3), 191. https://doi.org/10.4191/2167-1044.1000191


Williams, M. T., Davis, D. M., Tellawi, G., & Slimowicz, J. (2015). Assessment and treatment of sexual orientation obsessions in obsessive-compulsive disorder. The Australian Clinical Psychologist, 1 (1), 12-18.


Sawyer, B., Williams, M.T., Chasson, G., Davis, D., & Chapman, L. K. (2015). The Impact of Childhood Family Functioning on Anxious, Depressive, and Obsessive-Compulsive Symptoms in Adulthood among African Americans. Journal of Obsessive-Compulsive & Related Disorders, 4, 8-13. https://doi.org/10.1016/j.jocrd.2014.10.004


Williams, M. T., Davis, D. M., Powers, M., & Weissflog, L. O. (2014). Current Trends in Prescribing Medications for Obsessive-Compulsive Disorder: Best Practices and New Research. Directions in Psychiatry, 34 (4), 247-261.


Williams, M. T., Farris, S. G., Turkheimer, E., Franklin, M. E., Simpson, H. B., Liebowitz, M., & Foa, E. B. (2014). The Impact of Symptom Dimensions on Outcomes for Exposure and Ritual Prevention Therapy for Obsessive-Compulsive Disorder. Journal of Anxiety Disorders, 28 (6), 553-558. https://doi.org/10.1016/j.janxdis.2014.06.001


Williams, M. T., Slimowicz, J., Tellawi, G., & Wetterneck, C. (2014). Sexual Orientation Symptoms in Obsessive Compulsive Disorder: Assessment and Treatment with Cognitive Behavioral Therapy. Directions in Psychiatry, 34(1), 37-50.


Williams, M. T., Malcoun, E., Sawyer, B., Davis, D. M., Bahojb-Nouri, L. V., & Leavell Bruce, S. (2014). Cultural Adaptations of Prolonged Exposure Therapy for Treatment and Prevention of Posttraumatic Stress Disorder in African Americans. Behavioral Sciences — Special Issue: PTSD and Treatment Considerations, 4(2), 102-124. https://doi.org/10.3390/bs4020102


Chapman, L. K., DeLapp, R.C.T., & Williams, M. T. (2013). Cognitive-Behavioral Treatment of Social Anxiety among Ethnic Minority Patients, Part 1: Understanding Differences. Directions in Psychiatry, 33(3), 151-162.


Chapman, L. K., DeLapp, R.C.T., & Williams, M. T. (2013). Cognitive-Behavioral Treatment of Social Anxiety among Ethnic Minority Patients, Part 2: Bridging the Gap in Treatment. Directions in Psychiatry, 33(3), 163-176.


Williams, M. T., Mugno, B., Franklin, M. E., & Faber, S. (2013). Symptom Dimensions in Obsessive-Compulsive Disorder: Phenomenology and Treatment with Exposure and Ritual Prevention. Psychopathology, 46, 365-376. https://doi.org/10.1159/000348582


Simpson, H. B., Foa, E. B., Liebowitz, M. R., Huppert, J. D., Cahill, S., Maher, M. J., McLean, C., Bender, J., Marcus, S., Williams, M. T., Weaver, J., Vermes, D., Van Meter, P. E., Rodriguez, C., Powers, M., Pinto, A., Imms, P., Hahn, C-G., & Campeas, R. (2013). A Randomized Controlled Trial of Cognitive-Behavioral Therapy vs Risperidone for Augmenting Serotonin Reuptake Inhibitors in Obsessive-Compulsive Disorder. Journal of the American Medical Association (JAMA) Psychiatry, 70(11), 1190-1199. https://doi.org/10.1001/jamapsychiatry.2013.1932


Williams, M. T., Tellawi, G., Wetterneck, C. T., & Chapman, L. K. (2013). Recruitment of Ethnoracial Minorities for Mental Health Research. The Behavior Therapist, 36(6), 151-156.


Williams, M. T., Wetterneck, C. T., Thibodeau, M., & Duque, G. (2013). Validation of the Yale-Brown Obsessive Compulsive Severity Scale in African Americans with Obsessive-Compulsive Disorder. Psychiatry Research, 209(2), 214-221. https://doi.org/10.1016/j.psychres.2013.04.007


Williams, M. T., Davis, D., Thibodeau, M., & Bach, N. (2013). Psychometric Properties of the Obsessive-Compulsive Inventory Revised in African Americans with and without Obsessive-Compulsive Disorder. Journal of Obsessive-Compulsive & Related Disorders, 2(4), 399-405. https://doi.org/10.1016/j.jocrd.2013.07.003


Williams, M. T., Beckmann-Mendez, D., & Turkheimer, E. (2013). Cultural Barriers to African American Participation in Anxiety Disorders Research. Journal of the National Medical Association, 105(1), 33-41.


Foa, E. B., Simpson, H. B., Liebowitz, M. R., Powers, M. B., Rosenfield, D., Cahill, S. P., Campeas, R., Franklin, M., Hahn, C-G., Hembree, E. A., Huppert, J. D., Schmidt, A. B., Vermes, M. S., & Williams, M. T. (2013). Six-Month Follow-Up of a Randomized Controlled Trial Augmenting Serotonin Reuptake Inhibitor Treatment With Exposure and Ritual Prevention for Obsessive-Compulsive Disorder. Journal of Clinical Psychiatry, 74(5), 464-469. https://doi.org/10.4088/JCP.12m08017


Williams, M. T., Chapman, L. K., Wong, J., & Turkheimer, E. (2012). The Role of Ethnic Identity in Symptoms of Anxiety and Depression in African Americans. Psychiatry Research, 199(1), 31-36. https://doi.org/10.1016/j.psychres.2012.03.049


Gillihan, S. J., Williams, M. T., Malcoun, E., Yadin, E., & Foa, E. B. (2012). Common Pitfalls in Exposure and Ritual Prevention (Ex/RP) for OCD. Journal of Obsessive-Compulsive & Related Disorders, 1(4), 251-257. https://doi.org/10.1016/j.jocrd.2012.05.002


Williams, M.T., Elstein, J., Buckner, E., Abelson, J., & Himle, J. (2012). Symptom Dimensions in Two Samples of African Americans with Obsessive-Compulsive Disorder. Journal of Obsessive-Compulsive & Related Disorders, 1(3), 145-152. https://doi.org/10.1016/j.jocrd.2012.03.004


Mendoza, D. B., Williams, M. T., Chapman, L. K., & Powers, M. (2012). Minority Inclusion in Randomized Clinical Trials of Panic Disorder. Journal of Anxiety Disorders, 26(5), 574-582. https://doi.org/10.1016/j.janxdis.2012.02.011


Williams, M. T., Domanico, J., Marques, L., Leblanc, N., & Turkheimer, E. (2012). Barriers to Treatment Among African Americans with Obsessive-Compulsive Disorder. Journal of Anxiety Disorders, 26(1), 555-563. https://doi.org/10.1016/j.janxdis.2012.02.009


Jayawickreme, N., Yasinski, C., Williams, M., & Foa, E. B. (2012). Gender-Specific Associations Between Trauma Cognitions, Alcohol Cravings, and Alcohol-Related Consequences in Individuals with Comorbid PTSD and Alcohol Dependence. Psychology of Addictive Behaviors, 26(1), 13-19. https://doi.org/10.1037/a0023363


Williams, M. T., Proetto, D., Casiano, D., & Franklin, M. E. (2012). Recruitment of a Hidden Population: African Americans with Obsessive-Compulsive Disorder. Contemporary Clinical Trials, 33(1), 67-75.


Wetterneck, C., Little, T., Rinehart, K., Cervantes, M. E., Hyde, E., & Williams, M. T. (2012). Latinos with Obsessive-Compulsive Disorder: Mental Healthcare Utilization and Inclusion in Clinical Trials. Journal of Obsessive-Compulsive & Related Disorders, 1(2), 85-97.


Williams, M., Jayawickreme, N., Sposato, R., & Foa, E. B. (2012). Race-Specific Associations Between Trauma Cognitions and Symptoms of Alcohol Dependence in Individuals with Comorbid PTSD and Alcohol Dependence. Addictive Behaviors, 37(1), 47-52. https://doi.org/10.1016/j.addbeh.2011.08.008


Williams, M. T., Abramowitz, J. S., & Olatunji, B. O. (2012). The Relationship between Contamination Cognitions, Anxiety, and Disgust in Two Ethnic Groups. Journal of Behavior Therapy and Experimental Psychiatry, 43, 632-637. https://doi.org/10.1016/j.jbtep.2011.09.003


Williams, M. T., Farris, S. G., Turkheimer, E., Pinto, A., Ozanick, K., Franklin, M. E., Simpson, H. B., Liebowitz, M., & Foa, E. B. (2011). Myth of the Pure Obsessional Type in Obsessive-Compulsive Disorder. Depression & Anxiety, 28, 6, 495-500.


Williams, M. T., Crozier, M., & Powers, M. B. (2011). Treatment of Sexual Orientation Obsessions in Obsessive-Compulsive Disorder using Exposure and Ritual Prevention. Clinical Case Studies, 10, 53-66.


Williams, M. T., & Farris, S. G. (2011). Sexual Orientation Obsessions in Obsessive-Compulsive Disorder: Prevalence and Correlates. Psychiatry Research, 187, 156-159.


Williams, M., Powers, M., Yun, Y. G., & Foa, E. B. (2010). Minority Representation in Randomized Controlled Trials for Obsessive-Compulsive Disorder. Journal of Anxiety Disorders, 24, 171-177.


Foa, E., & Williams, M. T. (2010). Methodology of a Randomized Double-Blind Clinical Trial for Comorbid Posttraumatic Stress Disorder and Alcohol Dependence. Mental Health and Substance Abuse: Dual Diagnosis, 3(2), 131-147.


Williams, M. T., Turkheimer, E., Magee, E., & Guterbock, T. (2008). The Effects of Race and Racial Priming on Self-Report of Contamination Anxiety. Personality and Individual Differences, 44(3), 744-755.


Williams, M. T., & Turkheimer, E. (2007). Identification and Explanation of Racial Differences in Contamination Anxiety. Behavior Research and Therapy, 45, 3041-3050.


Williams, M. T., & Bonner, L. (2006). Sex Education Attitudes and Outcomes Among North American Women. Adolescence, 41(161), 1-14.


Williams, M. T., Turkheimer, E., Schmidt, K., & Oltmanns, T. (2005). Ethnic Identification Biases Responses to the Padua Inventory for Obsessive-Compulsive Disorder. Assessment, 12 (2), 174-185.



Editorials and Commentaries

Cénat, J. M., Darius, W., Noorishad, P., McIntee, S., Dromer, E., Mukunzi, J. N., Solola, O., & Williams, M. T. (2022). War in Ukraine and Racism: The Health of Refugees of Colour Matters. International Journal of Public Health, 67, 1604990, 1-3. https://doi.org/10.3389/ijph.2022.1604990


Haeny, A. H., Holmes, S. C., & Williams, M. T. (2021). Applying anti-racism to clinical care and research. JAMA Psychiatry, 78(11), 1187-1188. https://doi.org/10.1001/jamapsychiatry.2021.2329


Williams, M. T. (2021). Racial microaggressions: Critical questions, state of the science, and new directions. Perspectives on Psychological Science, 16(5), 880-885. https://doi.org/10.1177/17456916211039209


Campbell, M. & Williams, M. T. (2021). The ethic of access: An AIDS activist won public access to experimental therapies, and this must now extend to psychedelics for mental illness. Frontiers in Psychiatry, 12(680626), 1-5. https://doi.org/10.3389/fpsyt.2021.680626


Williams, M. T., Bartlett, A., Michaels, T. I., Sevelius, J., & George, J. R. (2020). Dr. Valentina Wasson: Questioning what we think we know about the foundations of psychedelic science. Journal of Psychedelic Studies, 4(3), 146-148. https://doi.org/10.1556/2054.2020.00140


Williams, M. T. & Labate, B. (2020). Diversity, equity, and access in psychedelic medicine. Journal of Psychedelic Studies, 4(1), 1-3. https://doi.org/10.1556/2054.2019.032


Wolitzky-Taylor, K., Williams, M., Moreland, A., & LeBeau, R. (2017). Introduction to the Special Issue on Diversity and Inclusion. The Behavior Therapist, 40(3), 72.


Williams, M. T., & Ching, T. H. W. (2016). Transgender anxiety, cultural issues, and cannabis in obsessive-compulsive disorder. AACE Clinical Case Reports, 2(3), e276-e277. https://doi.org/10.4158/ep161356.co


Williams, M. T., & Mier-Chairez, J. (2016). Editorial: Differences in psychopathology across ethnicity and culture. Current Psychiatry Reviews, 12(2), 106-108. https://doi.org/10.2174/157340051202160810111828