Culturally Informed Research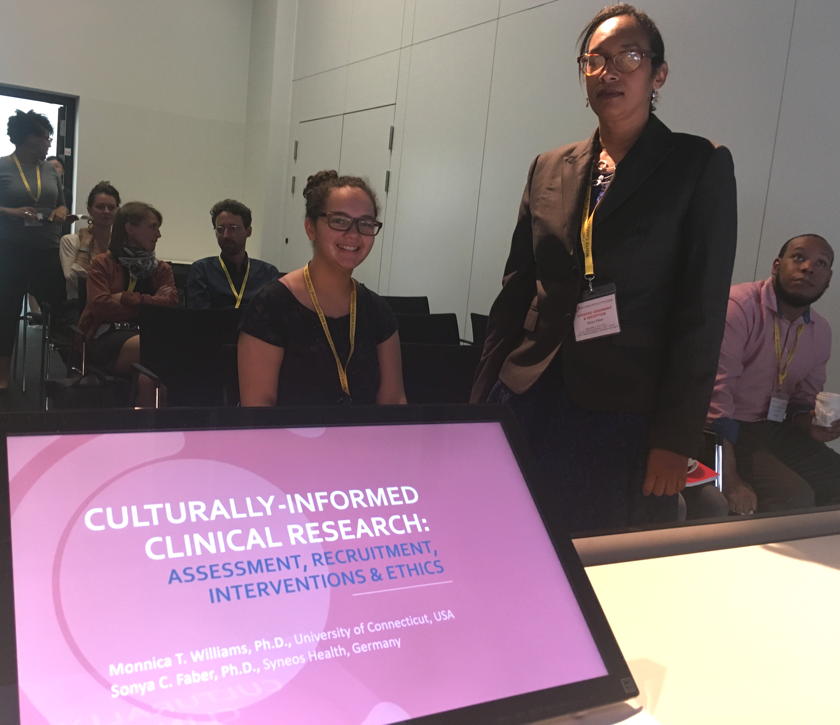 Culturally Informed Research: Drs. Sonya Faber and Monnica Williams prepare to deliver a skills-training class at the 2019 World Congress of Behavioral and Cognitive Therapies in Berlin, Germany.
Culturally Informed Research Design
Dr. Williams has expertise in culturally-sensitive recruitment methodology and study design.
Most researchers would like to be culturally sensitive in the design of their research projects, but may not know how to effectively implement this. Research is made culturally appropriate through an ongoing series of substantive, methodological additions and adaptations designed to mesh the process of inquiry with the cultural characteristics of the groups being studied. Researchers should include cultural considerations in the pretesting and planning of research, selection/translation of instruments, recruitment, collection of data, and analysis and interpretation of findings. These adaptations have a cumulative effect of rendering individual projects culturally sensitive and in building culturally informed research. Dr. Williams is available to consultant on study design by university faculty and community organizations.
Recruiting Underrepresented Groups for Research and Services
In 1993, the National Institutes of Health issued a mandate that funded research must include adequate participation by racial and ethnic minority groups, and researchers were required to include in their proposals strategies by which they would achieve diversity in their samples. Dr. Williams' own research found widespread ongoing exclusion of minorities in clinical studies of OCD and panic disorder, with ethnic minorities either underrepresented or minority participation not reported at all. Researchers must redouble their efforts to follow NIH guidelines regarding inclusion of special populations, as greater inclusion of ethnic minorities is clearly needed to fully understand psychological issues related in non-White populations.Dr. Williams has been very successful in efforts at inclusion of minorities in her own studies and has published papers on culturally-sensitive recruitment methodology. She is available as a consultant and research study advisor for a wide variety of psychological projects for researchers and community organizations.
Online Training
Williams, M. T. (recorded). Culturally-Informed Outreach & Clinical Research: Assessment, Recruitment, Interventions & Ethics. TZK Seminars. 3 CEs
Related Papers
Haeny, A., Holmes, S., & Williams, M. T. (2021). The need for shared nomenclature on racism and related terminology. Perspectives on Psychological Science, 16(5), 886-892. https://doi.org/10.1177/17456916211000760
Williams, M. T., Reed, S., & Aggarwal, R. (2020). Culturally-informed research design issues in a study for MDMA-assisted psychotherapy for posttraumatic stress disorder. Journal of Psychedelic Studies, 4(1), 40–50. doi: 10.1556/2054.2019.016
Bosson, R., Williams, M. T., Lippman, S., Carrico, R., Kanter, J., Peña, A., Mier-Chairez, J., & Ramirez, J. (2017). Addressing refugee mental health needs: From concept to implementation. The Behavior Therapist, 40(3), 110-112.
Williams, M. T., Tellawi, G., Wetterneck, C. T., & Chapman, L. K. (2013). Recruitment of Ethnoracial Minorities for Mental Health Research. The Behavior Therapist, 36 (6), 151-156.
Williams, M. T., Beckmann-Mendez, D., & Turkheimer, E. (2013). Cultural Barriers to African American Participation in Anxiety Disorders Research. Journal of the National Medical Association, 105(1), 33-41.
Mendoza, D. B., Williams, M. T., Chapman, L. K., & Powers, M. (2012). Minority Inclusion and Ethnic Differences in Randomized Clinical Trials of Panic Disorder. Journal of Anxiety Disorders, 26, 574-582.
Williams, M. T., Proetto, D., Casiano, D., & Franklin, M. E. (2012). Recruitment of a Hidden Population: African Americans with Obsessive-Compulsive Disorder. Contemporary Clinical Trials, 33(1), 67-75.
Wetterneck, C., Little, T., Rinehart, K., Cervantes, M. E., Hyde, E., & Williams, M. T. (2012). Latinos with Obsessive-Compulsive Disorder: Mental Healthcare Utilization and Inclusion in Clinical Trials. Journal of Obsessive-Compulsive & Related Disorders, 1(2), 85-97.
Williams, M., Powers, M., Yun, Y. G., & Foa, E. B. (2010). Minority Representation in Clinical Trials for Obsessive-Compulsive Disorder. Journal of Anxiety Disorders, 24, 171-177.
Foa, E., & Williams, M. T. (2010). Methodology of a Randomized Double-Blind Clinical Trial for Comorbid Post-Traumatic Stress Disorder and Alcohol Dependence. Mental Health and Substance Abuse: Dual Diagnosis, 3(2), 131-147.